Home Nest Mail Room
---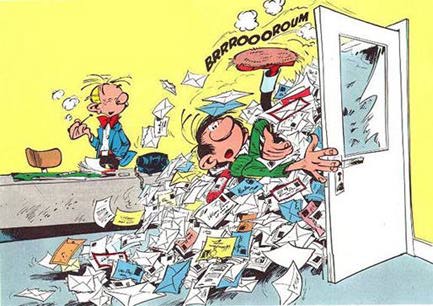 Instead of writing plain, old-fashioned e-mail messages, why don't you take advantage of HTML to send me your comments about this Home Nest in a more colorful and creative way? There are numerous WWW-mail gateways on the Net allowing the transmission of any thinkable card, letter, or virtual object, so don't hesitate, my mailbox is waiting for your ideas and suggestions!
A good site to start with is the Electric Postcard server of the M.I.T. Its rack has a wide variety of postcards to choose from, including classical and contemporary paintings, photographies, as well as scientific and virtual images.
There are also humoristic postcards with cartoons of Doctor Fun available for any special occasion.
If you are in the mood for food, why don't you send a picture of your favorite dish or drink? This american site has all the junk food you can dream of, but I would not recommend their French cuisine.
Virtual flowers don't smell as good as the real ones, but they don't fade either. Here is an address to select and post your own free bouquet.
The Park virtual community has a gift shop with a range of virtual flowers, fractal images, outdoors scenes, and holiday greetings to choose from.
Last but not least, the Virtual Presents Company stores hundreds of virtual objects, plants, and animals ready to be packed and dispatched around the world. What about sending a pet pink flamingo, an apple orchard, or a pool table, hummm? You name it, they have it.
Can't find what you need among the few possibilities listed here? Cardlady has additional links to hundreds of virtual postcard sites, indexed by subject, function, and special occasion. It is also possible to browse by the listings alphabetically or search the listings by whatever words you choose!
If you cannot find anything suitable to send me from the above sites, there is still the 'no frill' option, and it is right here, on this page, so you don't have any excuse for not using it! You can send me a message by simply filling out the form below and clicking the "Send the message" button. I would be very happy to read any comment, criticism, or suggestion that you have regarding this Home Nest.
The address field needs to contain your e-mail address so replies go to the right place. Also, if the mail bounces for some reason, you will receive notification only if your e-mail address is set correctly. Otherwise, all bounced mail will be sent to the bit bucket.
Credits: this mailform is based on a cgi script courtesy of Coder.com.
---

[back to the Nest]

[about the Nest]
l.delaude@ulg.ac.be
Last updated May 4, 2001