"Single-Mode Microwave-Assisted Atom Transfer Radical Polymerization Catalyzed by [RuCl2(p-cymene)(PCy3)]"
Sébastien Delfosse, Yannick Borguet, Lionel Delaude, and Albert Demonceau
---
| | |
| --- | --- |
| | source: Macromolecular Rapid Communications
            year: 2007
          volume: 28
      first page: 492
       last page: 503
             doi: 10.1002/marc.200600790 |
---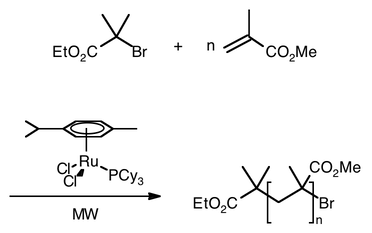 Abstract: In the atom transfer radical polymerization (ATRP) of methyl methacrylate in the presence of [RuCl2(p-cymene)(PCy3)] (p-cymene = 4-isopropyltoluene, PCy3 = tricyclohexylphosphine), a microwave effect is noted which strikingly depends on both the temperature and the method used (conventional microwave synthesis (CMS, i.e., without simultaneous cooling) or enhanced microwave synthesis (EMS, with simultaneous cooling)). Thus, between 85 and 120 °C under CMS conditions, microwave-assisted polymerizations take place in a controlled fashion, and at 120 °C the microwave-assisted polymerization is three times faster than the conventionally heated protocol. However, from 130 °C, microwave irradiation has a deleterious effect and the polymerizations are no longer controlled. Likewise, using the EMS method in the temperature range of 85-120 °C results in uncontrolled processes, as indicated by the unsuccessful resumption of the polymerizations. These failures might be attributed to a significantly high concentration of radical species, which results in enhanced propagation and termination -mostly disproportionation- rates.
Keywords: Atom Transfer Radical Polymerization (ATRP), Methyl Methacrylate, Microwave, Radical Polymerization, Ruthenium
---
[Full Text]
[<< Previous Article]
[Back to the List of Publications]
[Next Article >>]
l.delaude@ulg.ac.be